In Novice,Sezona 2018/2019 il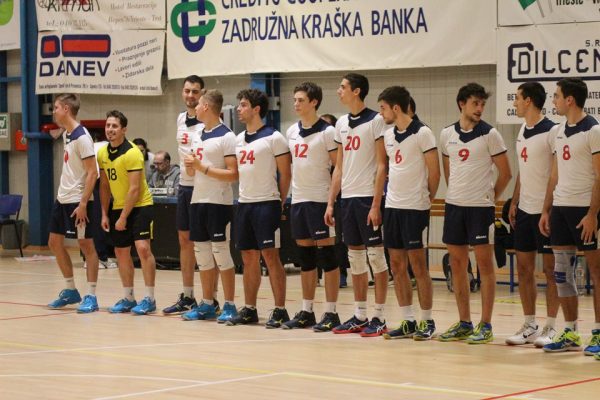 Foto Lako
Sloga Tabor – Olympia 2:3 (21:25, 23:25, 25:23, 25:23, 8:15)
Prejšnji konec tedna je bil v središču pozornosti sobotni derbi v Repnu med vodilno Slogo Tabor in drubgouvrščeno Olympio.
SLOGA TABOR: Manià 1, V. Kante 14, Cettolo 24, Peterlin 7, Antoni 12, Vattovaz 1, Milič (L1), De Luisa (L2), M. Kante 2, Jerič 3, n.v. Sutter, Riccobon in Trento
Trener: Jerončič;
OLYMPIA: Cobello 12, Pahor 26, M. Komjanc 17, S. Komjanc 2, Plesničar (L), Princi 5, Pavlović 16, I. Princi 1, Corsi 2, Vogrič 3, nv. A. Čavdek (L), Lupoli, S. Cotič
Trener: Makuc;
Po devetih zaporednih zmagah je Sloga Tabor doživela prvi prvenstveni poraz, in to kar doma v derbiju proti goriški Olympii, ki je pokazala večjo voljo do zmage. Gostje so bili predvsem nevarni s servisom in bili so boj agresivni od slogašev. V prvih dveh nizih so Makučevi varovanci prevladali, medtem ko se je v ostalih dveh bil srdit boj za vsako točko. Naposled pa so bili slogaši le uspešnejši. V petem nizu pa je Olympia spet prejela pobudo v svoje roke, osvojila set in končno zmago. Bila je to tudi najboljša tekma goriških odbojkarjev v tem prvenstvu. V vrstah Sloge Tabor se je še kako poznala odsotnsot libera Privileggija.
Izidi 9. kroga
Villains – Futura 2:3
Fiume Veneto – Fincantieri 3:0
Triestina Volley – Mortegliano 0:3
Sloga Tabor – Olympia 2:3
Ausa Pav – Coselli Seleco 0:3
Vrstni red (po 9. krogu)
Vir in slike: Slosport 8. december 2018